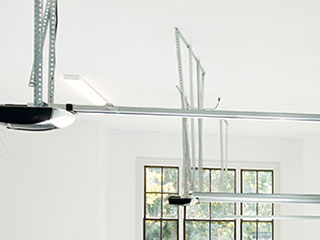 What Exactly Is A Smart Opener?
Smart technology comes with many new openers today, but smart add-ons can also be added to your existing model if it's compatible, and your home Wi-Fi router has the proper range (if not, you can add a range extender). The actual smart device usually gets attached to the opener and connects to the home Wi-Fi network. This way, you'll be able to detect the position and operation of your door remotely. Some models also come with special apps like geofencing, voice control, remote access and scheduling.
Safety & Security Features
Via an app, you should be able to access information about your garage door on your phone or tablet. You'll be able to check its status and operate it remotely – this is great for frequent travelers. This way, you won't have to be at the house to find out what is happening in your absence. Some models also include a camera with voice control so you can watch the inside of the garage and give the opener a verbal instruction. You'll never have to worry about asking friends or neighbors to check the house or about giving them your access code or remote.
The New Add-ons
In addition to the general improvements in safety and security that smart features now afford, the inclusion of a Z-Wave outlet with many garage many models now provides a range of other advantages:
• Distance detection sensor: With a presence sensor in the car, the opener can close the door automatically when you drive out, and open it up again when the car approaches.
• Scheduled Operation: It's not unheard of to accidentally leave a garage door open the entire day. With this new scheduled operation option you can program the opener to automatically open and close your door at specific times.
• All-round integration: Some models enable integration with your overall smart home security system so you can monitor and control all parts of the house from afar.
If you'd like to discuss your smart technology options in more detail, just get in touch with our team at Garage Door Repair Lake Mary – we love to discuss this stuff!