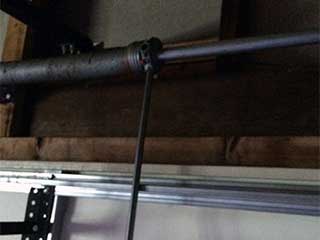 The springs that keep your door moving aren't going to last forever. They're designed to be tough and reliable, but they will eventually need to be replaced. As they grow weaker and weaker they'll usually give off warning signs. If these are ignored, they can fail altogether. This can be dangerous - we strongly recommend that all homeowners contact our team if their springs are showing considerable signs of wear.
Are Your Springs Wearing Out?
A good-quality torsion spring that's regularly maintained can last for as long as 10 years. However, the cheaper units that are often fitted can last as little as 3, especially if they're not cleaned and lubricated on a regular basis. This makes it hard to predict when your springs need replacing, so it's best to watch out for some common warning signs. A door that wobbles or sags as it moves is a dead giveaway that the springs are about to wear out - you should get in touch with our technicians right away.
We Replace Springs
If your springs have already broken, or you think they're in danger of doing so, our team will be on hand to help. We know how difficult it can be to deal with a door that doesn't work. Our emergency appointments are designed to get your door sorted as quickly as possible. Our team carries a wide range of replacement parts from top-name brands, and will usually be able to swap out damaged or broken parts right there on the spot.
Handle Springs With Care
In order to support your 150lb+ garage door, your springs must be extremely strong. Don't try and work on them yourself; they're under a lot of tension and can easily cause damage if not handled by a professional.
Arrange A Service Today
Our team can help identify a worn-out spring, and are always ready to provide a fast, effective and replacement service. To arrange an appointment, simply contact our experts at Garage Door Repair Lake Mary.
Want more? Let us take care of:

Broken Cable Replacement

Extension Spring Adjustment

Genie Garage Door Opener Services

Maintenance Garage Door Torsion Spring